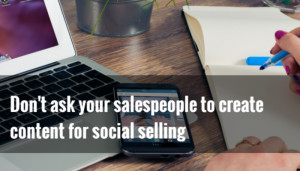 In a perfect world, it would be ideal if individual salespeople could be so engaged, so knowledgeable, and so polished that every one of them could create stunning, thoughtful material to share with their prospects and customers on social media.
However, asking salespeople to create content from scratch to fuel their social selling initiatives comes with peril and is a bit unfair.
I have tremendous respect for B2B salespeople. They have hard jobs. And increasingly, the nature of the job is changing as potential customers seek out information from many sources before they even choose to engage with a salesperson.
That's why I believe that social selling is so necessary. It gives salespeople a way to create awareness of themselves, share knowledge, demonstrate value, and explore marketplace problems with their prospects before they try to engage them at a more intimate level.
I've recently heard more about the idea of salespeople creating their own content to share on social media. Let me share with you the reasons why I think you will be generally better off not asking your sales team to create their own content and how you can still empower them to achieve their social selling goals.
1. You often need a deep level of expertise to produce useful, intriguing content
Every business is different and I'm willing to say that my perspective may be skewed from working in areas that require expertise in complex topics.
As a marketer, I try my level best to be familiar with the problems and concerns of my customers. And as knowledgeable as I may be, I almost always have to turn to internal subject matter experts when I create content marketing campaigns. These subject matter experts are exactly that…experts. They are better versed in regulations, science, technology and other areas that allow them to convey information at the same level as an expert prospect or customer.
It's my job as a marketer to work with my internal experts to develop interesting topics and draw from them the information that comes from someone completely immersed in a technical field. I can then shape that information into deliverables that provide impact across the buying cycle and can be used by salespeople as part of their social selling initiatives.
If you work in a complex market accompanied by long sales cycles, it's unlikely that it even makes sense for a salesperson to try to either go through the process I just described or create content completely on their own.
In most cases, salespeople and marketers won't possess the knowledge that an internal subject matter expert can offer. When I consider the sales side of the equation, my experience has been that sales teams are often closely aligned with subject matter experts or solutions/product specialists who help them through the technical part of a sale. My point being that if we need experts on hand to help salespeople during the sales cycle, why would we expect salespeople to create content that requires the expertise they are relying on others for?
I'm not arguing that salespeople aren't knowledgeable or incapable. Quite the opposite. I think they perform a valuable function that is enhanced by the synergy between marketing and internal experts.
2. Salespeople are not necessarily skilled content creators
Everyone has a job to do. As a professional marketer (and someone who did a stint in sales), I can tell you that if you want material out in the marketplace that is even tangentially associated with your company, you are better off relying on professionals skilled at creating or curating that content.
I don't make cold calls. Why should I expect salespeople to write articles or record podcasts? As a general rule, I'd shoot for giving your sales team something polished they can share rather than relying on them to make it from scratch.
3. Branding matters. So does accuracy.
Companies work hard at cultivating their brands. As much as salespeople act as individuals, they are still agents of the company they represent. As such, if they share content with a company's potential prospect pool in an attempt to persuade or engage those contacts, how that communication looks and what it says is a big deal.
Most of us have seen homemade sales materials (some may have even created them!). Information that looks sort of like it came from the vendor in question can come off as unprofessional. If it has incomplete or incorrect information in it, it's practically professional malpractice.
Yet, this is the position we put salespeople in when we ask them to create their own content. In regulated markets like insurance or pharmaceuticals, having salespeople create their own content (while generally forbidden or at least strongly discouraged), can have damaging repercussions on a company.
4. Getting people to share content regularly can be difficult in the first place
If you haven't run an employee advocacy program, I can tell you that it can be challenging to get and keep people engaged and sharing content on social media that is essentially spoon fed to them.
It's not that people don't want to share. Like any program, there is the potential to start out strong and then drift away from it as other tasks and priorities crop up.
There is also the propensity for sales teams to revert to activities that have the biggest potential for short term gain. As anyone involved in social selling will tell you, it's not something you start in a frenzy during the fourth quarter and expect to get results. It's something you have to work on everyday and it's about more than just sharing content.
You can't blame sales teams for this. Their performance is usually measured quarter to quarter and focusing on something that seems like it might have payoff down the road is not a sure bet. This is particularly acute in businesses that have long sales cycles and where prospects are only somewhat active on social media to begin with.
With these factors in mind, encouraging sales teams to create their own content can just add another layer of complexity to the social selling process.
How can you help your salespeople make the most of the content you create or curate?
First off, your sales team should be an excellent source of ideas for your content marketing program. They are in near constant contact with customers. They should have a good grip on marketplace issues, specific customer problems, and perceptions or objections affecting your own product or service.
Listen to their feedback and use that as you develop new ideas for potential content. When salespeople feel that you are creating content that helps them address obstacles or gets the attention of their prospects, they will be more likely to share it and be invested in it.
Next, do a thorough job curating relevant third party content. Allow your salespeople to pick and share content that they feel is most valuable to their networks. Discuss strategies for adding short commentary to their social posts that relates to the content they are sharing. This will allow their own thoughts to shine through and ensure they are sharing content that your company has vetted.
Depending on your program, you may be able to customize or personalize content that is unique to a salesperson or the prospect they are targeting. This could be as simple as adding a salesperson's name on the cover of an ebook or adding their signature to the introduction. It could be giving them email templates with links to relevant content they can tweak and share as needed.
Make it easy for your team to share company-produced and third party content. There are multiple distribution tools available on the market that can stage content for your salespeople and make it push-button ready for them to share with almost any of their social networks. These often come with some type of gamification component which you can use to encourage friendly competition across your team. You'll also typically get access to analytics so you can see which content gets shared and who is sharing it.
Finally, make sure all of the content you offer to your sales team is top notch. If they feel good about the quality of the content you give them to share, the need for them to create their own content should be diminished.
B2B sales teams are under enormous pressure in a rapidly changing environment. The best strategy is to harness the skills and talents of your entire team to help them be successful.