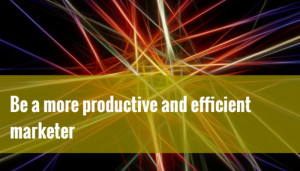 Any professional marketer can tell you that it's difficult to get all of the things done in a day that you need or want to. That's why I'm honored to have contributed a class to MarketingProfs University Marketing Project Management Essentials series.
This new series is designed to help you be more productive and efficient, and ensure you move more projects through the pipeline, no matter their size or level of complexity.
My course, How to Launch an Effective Marketing Program the First Time, teaches how to launch effective marketing programs the first time around including:
Understanding the key information you must document for your marketing plan
Identifying who should contribute to building marketing requirements
Communicating your marketing needs and gain organization-wide agreement on common goals
I'm joined by a truly stellar group of marketing professionals who contributed to this eleven part course series.
If you're interested in looking over the course materials or registering, you can visit: https://www.marketingprofsu.com/course/2730/project-management