As with everything, experience is the greatest teacher. Remember these takeaways so you can make your next product or service launch a success!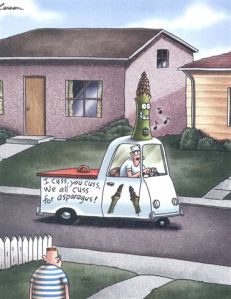 For the first several years of my marketing career, I kept this Larson cartoon pinned to a billboard near my desk. It served as a constant reminder to love my products, but not so much that I couldn't see their flaws. It helped me to remain grounded, to be a determined devil's advocate, and to avoid succumbing to group-think.
However, you don't always get to pick your assignments and sometimes you find yourself driving the little asparagus truck whether you like it or not. Those times taught me some valuable and often painful lessons.
With all the information, techniques, and expertise available to help us launch successful products, how is it possible for us to pour time and resources into ideas only to have them crash and burn when they reach the market?
Mainly, it's because somewhere along the way we lose objectivity. We miss fatal flaws that are often obvious. Or, we block out negative feedback altogether.
Here are two examples to help you avoid these pitfalls:
The good product that had too many caveats
Several years ago, I was a marketing manager for a one of a kind data product that provided amazing insights into the medication adherence levels of real world patients. Customers were stunned by what they saw and getting their attention was not difficult. The product was easy to use all by itself and we offered professional services to deliver custom reports that answered their out of the box questions. What could possibly go wrong?
For starters, we could only collect data for a few, very large product categories – in this case, blockbuster pharmaceuticals. So, we couldn't sell our product to companies with drugs in smaller therapeutic areas or to brand teams operating in therapeutic classes we didn't cover which eliminated a huge section of the market. Additionally, many of the drugs we covered would be losing their patent protection within a couple of years meaning that our customers would cease their marketing and research spending as they went generic. Both of these issues indicated that there would be almost no market for our product in a short amount of time.
These circumstances were foreseeable. We did manage to secure a couple of large customers, but spent more time putting together workarounds for all of the prospects we couldn't easily accommodate. In the end, the cost of maintaining the product was not sustainable and the market not large enough to keep going, so it was discontinued.
The flawed product that needed more 'marketing'
On another occasion, I was assigned to market a product that had recently launched and was sputtering. The concept was the brainchild of a large consulting firm. The marketplace need was clear and our customers expressed interest in it, so no one could figure out why it wasn't selling. The hair trigger feedback I heard was that it needed more marketing promotion, but I dug deeper.
I started by talking with the team responsible for delivering the product demos. In the first five minutes of the conversation, they told me that the product was missing an important component that our customers were demanding. Next, I sat in live product demos so I could hear customer reaction for myself. Time after time, the same objection was raised – we were missing a component that was pivotal. When we brought this feedback to the product management team, they acknowledged it as a weakness, but claimed there was little they could do without a significant investment and that what we had in the current product was still salable. We just needed to calibrate our promotion to drive interest.
We did manage to sell a few more subscriptions, but it never took off as expected. No amount of marketing promotion would have saved it. In the rush to get something out to market, we missed something big or put blinders on because we thought what we had was good enough. And when the negative feedback mounted, we couldn't adjust.
As with everything, experience is the greatest teacher. Remember these takeaways so you can make your next product or service launch a success!
Ask hard questions upfront of your customers, your colleagues, and yourself.
Be prepared to adjust your strategy when what you're hearing pokes holes in your idea.
If you feel yourself getting defensive, it's a sign that you need to step back and look at things more objectively.
Good promotion won't make up for a bad product in the long run.
You can love your product as much as you want, but it doesn't matter if no one else does.