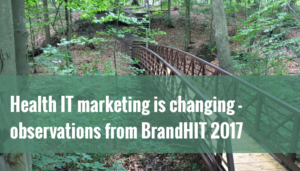 Last week, I was honored to speak about B2B podcasting at the first BrandHIT conference held in Las Vegas.  It's always great to mingle with other professionals who face the same challenges you do and really "get it".
Over two days of the conference, I attended many presentations and filed away countless takeaways. There are a few themes/ideas that especially resonated with me.
Building trust is vital
In many ways, making a purchase in a B2B setting is a more emotional transaction than in B2C. The stakes are almost always higher for the buyer as their career, reputation, and work relationships could literally be on the line. So, it perhaps goes without saying that buyers must have a high-level of trust and faith in the vendors they bring to the table.
I've attended many B2B marketing conferences over the years, but the idea of building trust through marketing was never more prevalent than at BrandHIT. Almost as if it was coordinated (but it wasn't I can assure you), each speaker touched on the importance of building trust and how challenging that can be given the number of vendors in the health IT marketplace.
While demand generation is usually a key function of marketing teams, no pipeline opportunity will ever close if trust is not established. Trust building starts with delivering education to the market and transitions to open communication and demonstrated competence with vendor organizations.
Email ROI is declining rapidly
There are only a handful of direct methods that B2B businesses have for reaching prospects, perhaps the most utilized (or over utilized) are telephone and email.
Phone calls inevitably go direct to voice mail boxes these days.
So, that leaves us with email. A direct, and theoretically, less invasive way to get the attention of prospects. But, we all know that that prospect inboxes are cluttered and we can see the corresponding decline in open and click-through rates.
When talking to several colleagues at BrandHIT, I noted a frustration with email that seems to be reaching a fever pitch. In health IT, vendors are all pursuing the same C-level hospital contacts. To our consternation, these executives are now routinely hitting the delete key on emails if they even remotely look like they came from a vendor.
One speaker went so far as to say that it's likely we won't even be using emails in our marketing within four years. His contention was that email client filtering will be so intelligent by then that vendor emails will be screened out long before they hit the inbox.
Of course, there were the success stories related to opt-in email newsletters and the like. But for marketers who support sales teams with direct email, the future may be less bright.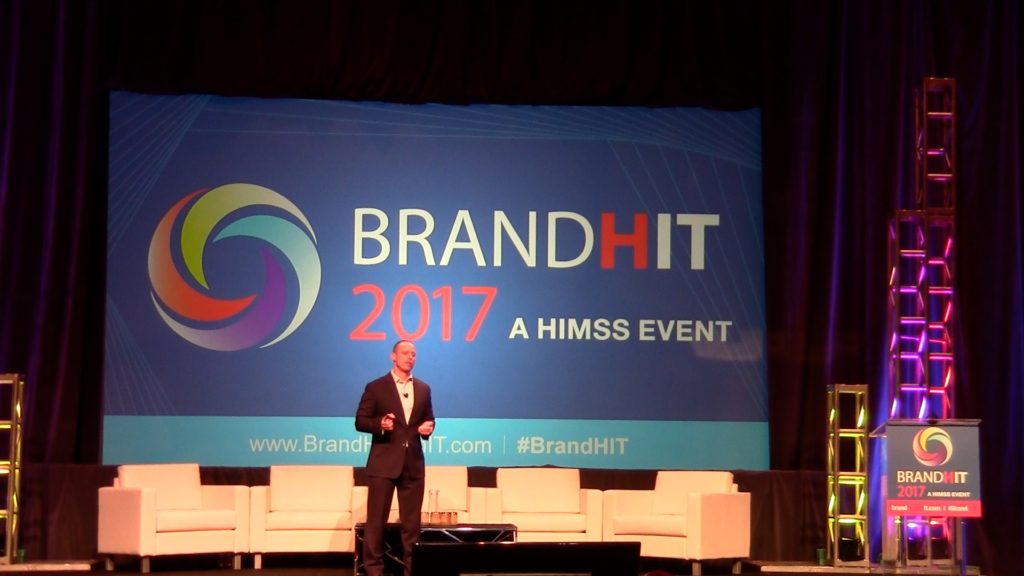 Marketing spend is shifting towards customer evidence and relationship building
Given that it's more important than ever to build trust with our customers before they buy, it's not surprising that marketers are shifting spend from traditional media towards activities that cement relationships with current customers.
This idea was underscored by a CIO panel at the meeting. They discussed their inability to deal with the daily deluge of vendor emails and the lack of sincerity or situational understanding in those messages. On the flip side, one CIO mentioned how powerful a tweet could be from another CIO that spoke favorably about a vendor.
Everyone who works in health IT can testify to how difficult it is to get attributed testimonials and case studies from hospital clients. As noted at the conference, there are other strategies where individual customer contacts can support a vendor using their sole discretion. Whether it's a social media shout out, participating on a webinar panel, or appearing as a podcast guest, B2B organizations must recognize that customer references can come in many forms.
What does all this mean?
One major implication of these observations is that we must focus more attention on our current customers. We need to get to know our customers intimately and earn their trust through the course of long standing relationships. This gives us the opportunity to grow revenue streams within customers and allows us to work collaboratively with satisfied contacts to attain new business.
Hospital executives truly want partners who understand their strategies and work closely, and reliably, with them to solve their problems. They realize they can't do everything internally and are open to partnering with firms that exhibit high degrees of integrity and competence.
Often, their hands are tied by legal departments that do not allow attributable endorsements or references. However, with some creativity, marketing departments can involve customers in their programs without putting them in jeopardy with their employers.
Just as marketers must look for alternative forms of customer evidence, we must also pursue new channels for reaching prospects. In the years to come, it is likely that we'll rely less on tactics like email for reaching customers. Instead, informed customers will find us through more sophisticated web searches and other resources. Then, they will verify their potential range of choices using social proof and other forms of non-traditional references.
Moreover, I believe less prospects will go to the trouble of filling in forms to download white papers and e-books instead opting for information that can be gained freely and anonymously. This will change how we deploy demand generation and how we set expectations around it.
In my presentation at BrandHIT, I talked about podcasting as an alternative way to drive engagement and connect with prospects outside the busy office setting. While podcasting is not a new technology, when used appropriately it can build thought leadership, strengthen bonds with current customers, and give experts a platform to demonstrate they have the knowledge to solve complex customer problems.
Surely, there are some tipping points in the very near future that will change how marketing is viewed and executed in the health IT setting. We can no long expect the same tactics we've used for a decade or more to be as effective going forward. Hospital executives simply don't have the time to read generic vendor emails or offer fifteen minute introductory calls to every vendor who requests one.
Ultimately, as sales and marketing teams, we define success through revenue. However, the marketing activities and metrics we use to attain that revenue must change with the times so we remain relevant to our customers and viable as marketers.